Vet's Best® Comfort Calm, 30 Soft Chews
Item:

Net Wt. 4.2OZ | 120G

Manufacturer: Vet's Best
Product Description
Vet's Best Comfort Calm Soft Chews promote calm and balanced behavior in nervous, hyper, or discontented dogs. A vet-formulated blend of plant-based ingredients in each once-a-day soft chew supports non-drowsy relaxation and helps reduce separation anxiety. The OptiLife3™ Formula provides antioxidants and prebiotics to support healthy immune and digestive systems, and reduce the effects of normal environmental stress. Our chews are extra moist, great-tasting, and made for optimal absorption. Made with quality globally sourced ingredients.4
CALMING RELIEF FOR DOGS - Vet's Best Comfort Calm Soft Chews for Dogs (30 count) is a veterinarian-formulated calming aid to support balanced behavior and promote relaxation with a once-a-day supplement.
FLEXIBLE DOSAGE - Densely packed with active ingredients providing a high level of bioavailability for optimal absorption, our Comfort Calm Soft Chews give you the ease and simplicity of a once-a-day supplement or can be take as needed.
INFUSED WITH OCEAN KELP - Our OptiLife3™ formula, made with natural ocean kelp, provides antioxidants and prebiotics to reduce the effects of normal environmental stress and support a healthy immune system and digestive health.
VETERINARIAN-FORMULATED - Each soft chew contains a soothing blend of tryptophan and natural thiamine, valerian root, chamomile, and ginger root for non-drowsy relaxation, balanced behavior and motion sickness prevention.
View full details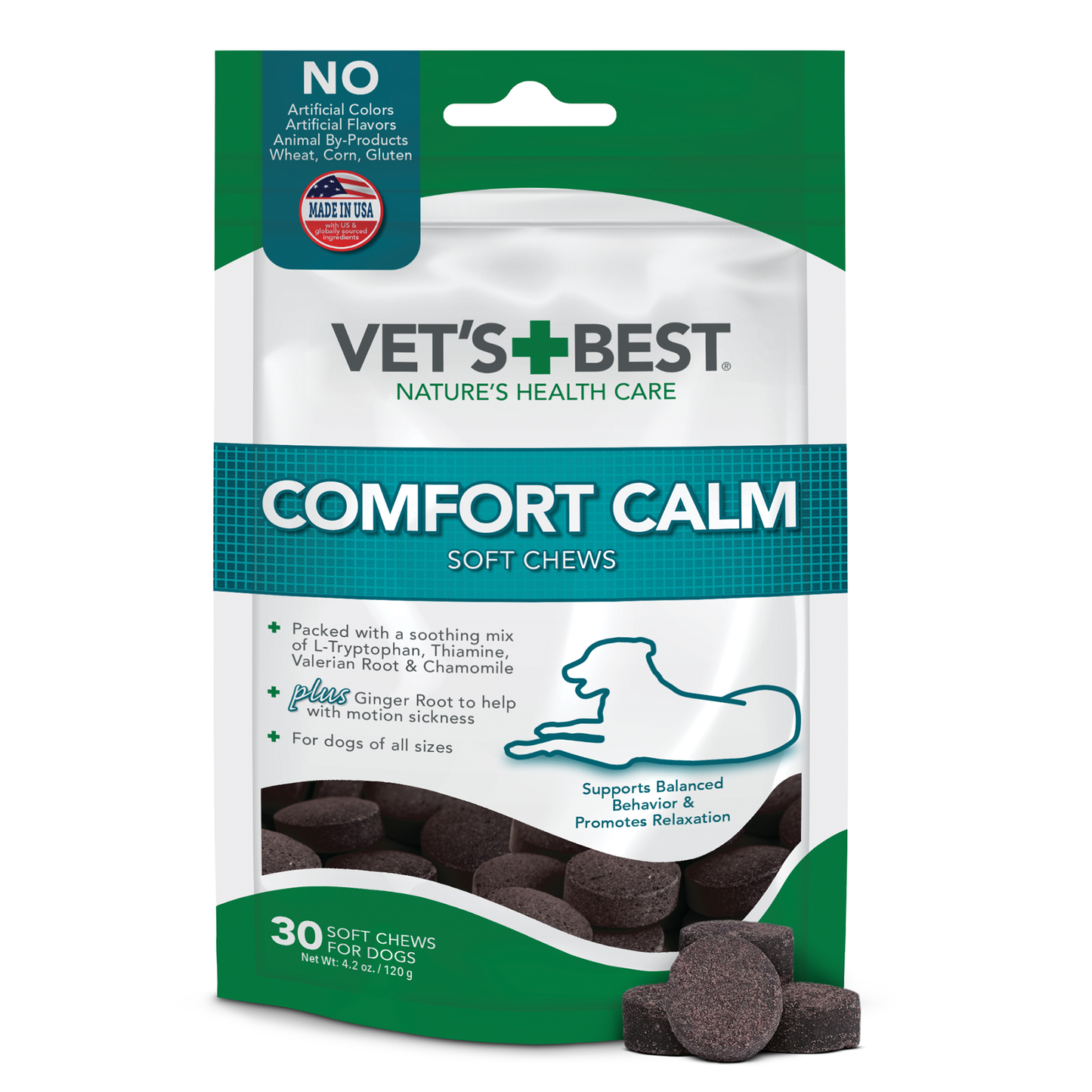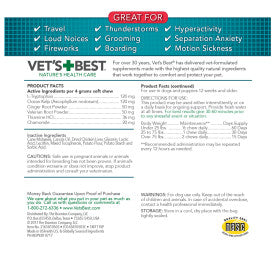 Vet's Best® Comfort Calm, 30 Soft Chews