HI-PRO FEEDS® Step Right (Step 2) Peak Sweet Performance Horse
Item:

Net Wt. 20KG | 44LB

Manufacturer: Trouw Nutrition
Product Description
Peak Sweet is a sweet, texturized, high-energy feed designed for performance horses, growing horses, stallions and hard keepers. Great for horses engaged in heavy exercise, or for those requiring additional energy intake for metabolic reasons.
A highly digestible and palatable diet containing whole grains including oats, and a fortified supplement pellet.
Now containing 10% non-hydrogenated fat from canola oil for increased energy and performance.
All fat sources are non-hydrogenated vegetable oils that are selected to provide a good ratio of Omega 3 to Omega 6 fatty acids to growing horses and high performance horses.
Fortified with organic selenium, ZinPro 4-Plex® EQ chelated trace minerals, Diamond V® Yeast Culture, and Botanical Guardin™ for superior digestibility and performance in your horse.
View full details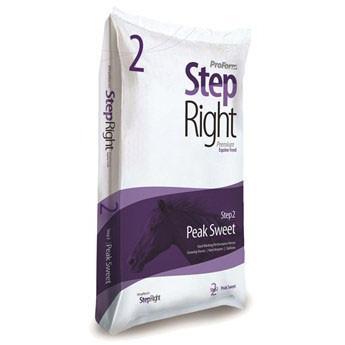 HI-PRO FEEDS® Step Right (Step 2) Peak Sweet Performance Horse