MARTIN little friends™ Apple Dumpling Treats
Item:
Manufacturer: Martin Mills
Product Description
The Perfect Treat for ALL your little friends. Every Treat is a Toothbrush.
Your small pets will love the taste of Martin little friends™ Apple Dumpling Treats.
RECOMMENDED FEEDING GUIDE
Feed smaller pets up to 5 pieces per day. Feed larger pets up to 10 pieces per day. Always discard any uneaten pieces.
INGREDIENTS: Whole Ground Oats, Soybean Hulls, Wheat Middlings, Soybeans, Whole Ground Wheat, Molasses, Apple Pomace, Soybean Meal, Soya Oil (Preserved with Rosemary Extract, Vitamin E and Citric Acid), Calcium Carbonate, Wheat Germ, Salt, Choline Chloride, Dry Apple-Ade (Reg# 980058), Ascorbic Acid (Source of Vitamin C), Antioxidant (Reg. #982389), Rice Hulls, DL-Methionine, Iron Sulphate, Manganese Sulphate, Vitamin E, Zinc Oxide, Niacin, Copper Sulphate, Mineral Oil, Vitamin A, Folic Acid, Calcium Pantothenate, Selenium, Riboflavin, Vitamin B12, Vitamin D3, Vitamin K, Biotin, Pyridoxine Hydrochloride, Calcium Iodate, Thiamine Mononitrate, Cobalt Sulphate.
View full details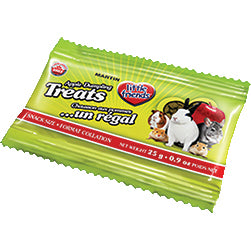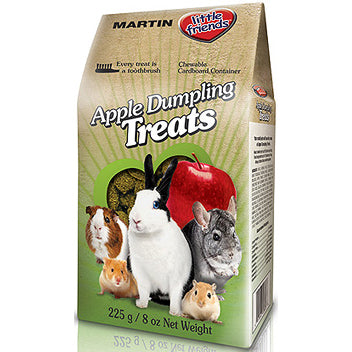 MARTIN little friends™ Apple Dumpling Treats