Prevue Pet Products Naturals Coco Monkey Bird Toy
Item:

62705

Manufacturer: Prevue Pet Products
Product Description
Prevue Pet Products Naturals Coco Monkey Bird Toy is made from natural, sustainable, materials providing your bird with mental stimulation and rugged physical play. The Coco Monkey is made from a hollowed-out coconut; the texture is perfect for encouraging beak exercise. Additional natural materials include Coffeawood with Mendong rope, corn stalks, and cuttlebone (if available). Softwood squares, Coffeawood washers, and pumice stone inspire interactive play with your bird. Toy connects easily to cage with nickel-plated quick-link attachments– actual measurements may vary slightly. As always, supervise birds at play.
Offers birds a rugged, rich, textured landscape
Natural fibers satisfy pecking, preening and nest-building urges
All components are 100% safe and non-toxic with quick-link attachments to connect easily to your bird's cage
Our Cocoa Monkey measures 7 3/4" in diameter and 7" high.
Ideal for medium, large and x-large birds measuring 18" to 40+" beak to tail.
View full details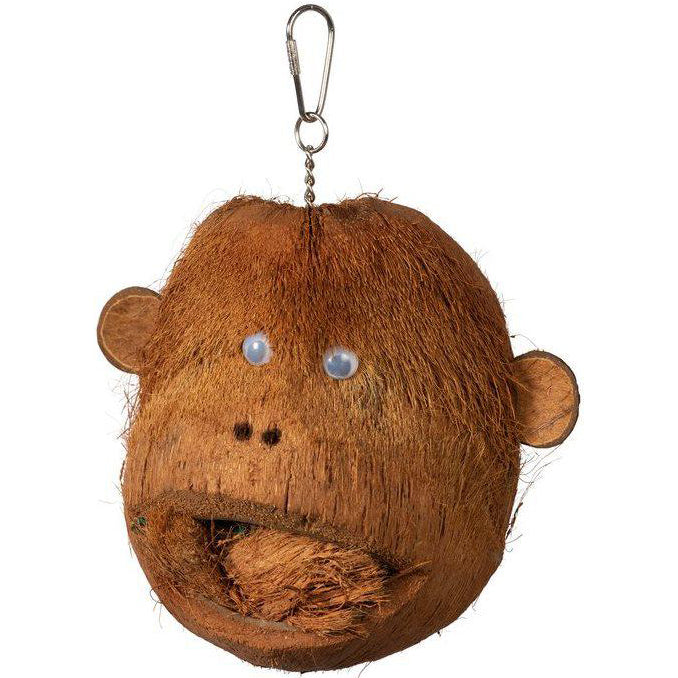 Prevue Pet Products Naturals Coco Monkey Bird Toy