ROLLOVER™ Chicken Wrapped Porkhide Twists
Item:

PH-90B-D

Manufacturer: Rollover Pet Food
Product Description
Chicken Wrapped Porkhide Twists are 100% digestible porkhide (made from the inner layer of pork skin) wrapped in 100% chicken breast and carefully baked to be a delicious chew treat. Porkhide is a much healthier alternative to traditional beef rawhides and these twists are high in protein and low in fat. The unique twisted shape helps to clean teeth and gums while the added chicken entices dogs to chew. Since porkhide softens when chewed, it makes an ideal chew treat for dogs, from puppies to seniors.
Feed as a chew treat and please always supervise your dog with any treat.
Rollover Porkhide contains approximately 5.3 calories/g and the Chicken contains approximately 3.2 calories/g.
View full details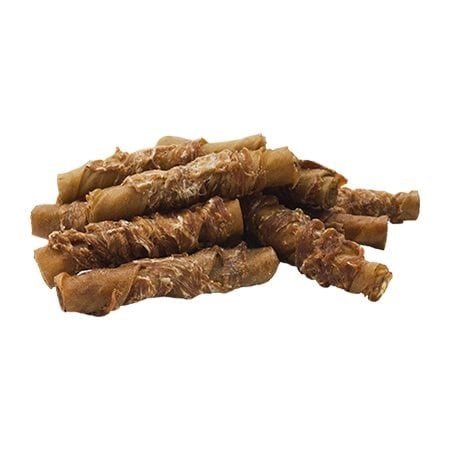 ROLLOVER™ Chicken Wrapped Porkhide Twists