Ultra Paws® Skijor Package
Item:

Skijor Package

Manufacturer: Ultra Paws
Product Description
This complete package includes the Ultra Paws® Skijor Hip Belt with patented soft safety release, a padded harness, and 8 foot (2.4M) tow line. Check out the Product Video for complete details!
Ultra Paws® Skijor Hip Belt:
Ideal for skijoring, canicross, or rollerjoring.
Patented soft quick release - once released there's no danger of metal injuring the dog or others from metal quick releases.
Your center of gravity lowers with the belt positioned at your hips.
Bright reflective strips at back and side straps
Control handle at the back of the belt is handy for beginners or in the race starting chute.
Attach the dog tow line to the quick release portion of the Hip Belt.
The front belt straps extend from both sides of the belt to keep your balance when turning.
Heavy duty snaps on the adjustable waist band.
Tacky material covers soft padding to hold the belt on your hips without leg loops.
This package comes with a size Medium only.
Ultra Paws® Tow Line:
This length is ideal for Skijoring, Rollerjoring, or Canicross with one dog.
The Tow Line is 8' (2.438 M) long before expansion and made of 1" (2.54 cm) tubular nylon with 12" (30.5 cm) of stretch shock cord inserted and sewn in the nylon to absorb sudden tension and jerks on your dog's harness.
Includes a brass snap to attach to the back of your dog's harness with a loop at the other end to attach to your Skijor Hip Belt or a sled.
Features a hand loop near the brass snap to shorten the Line for better control of your dog when walking or stopping.
Ultra Paws® One Harness:
Ideal for pulling in medium to light activities.
Fully adjustable through the neck, back, chest, and belly.
Padded through the neck, back, chest, girth and belly.
Floating O-ring at the back makes this ideal for Skijoring - as it puts less stress on the dog's hips when pulling at an angle.
D-rings on either side to attach tracers for carting
Belly strap restricts the dog from backing out of the harness.
Never leave your dog unattended while in the harness
Size Large fits a collar of 12-24 inches and 30 to 75 lb weight
If the dog fits into a collar size in two different sizes, use the weight guide to help pick out the correct size harnes
View full details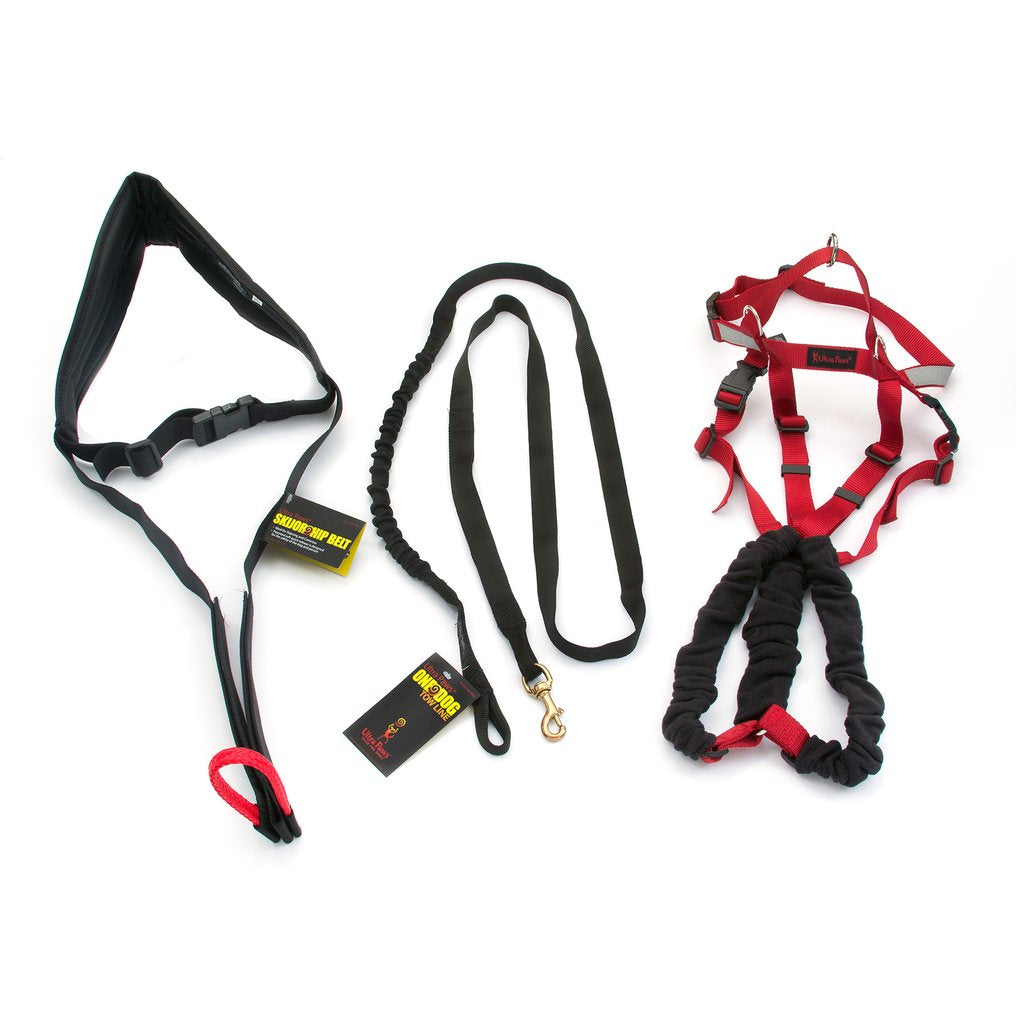 Ultra Paws® Skijor Package